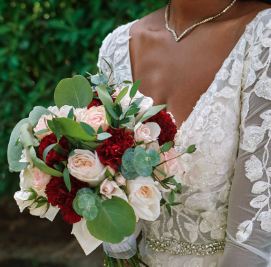 SELECTION:
The Bouqs Co. offers Pre-arranged Wedding Packages, Wedding Party Packages, Centerpiece Packages, and, DIY Wedding & Event Flowers. While we do not customize arrangements or packages, you are able to select from our offerings to build the perfect floral experience for your special day. Please view our collections here.
SHIPPING:
Once you've made your selections, your should choose a delivery date 2-3 days before your event to give your flowers time to bloom. We ship your flowers directly to your door on the delivery date of your choosing. After your order is shipped, you will receive an email with your tracking information.
DELIVERY AND CARE:
Upon delivery, unpack the boxes containing your your flowers with care rehydrate your stems so they can continue to bloom. Flowers need to be stored in water in a cool place, away from air vents or direct sunlight. Gently remove any netting you may find around any blooms.
Please view additional Care Instructions here.
BOUQS CO. WEDDINGS IN THE WILD:

You can visit The Knot and Wedding Wire to read reviews from previous customers and view images from real weddings of Bouqs Co.